I love drawing and communication and illustration is the perfect job for combining both these things.
I have worked on all kinds of interesting, creative projects; from book illustration for mass market publishers to digital animation for charity campaigns. My aim is to find the best way to say exactly what my clients wish to convey as effectively and beautifully as possible.

A great deal of my work has been in the women's sector, tackling difficult subjects like domestic abuse, abortion and rape. These subjects require sensitivity, but also, because much of the work is for raising money and awareness, they need to have impact too. It's a balance and a challenge I am very much invested in.

I am also of course very happy to tackle subjects that are lighter than the above. Communicating visually for all kinds of stories, organisations, creatives and businesses is what I'm here for, so if you're interested in commissioning me for a project, please do get in touch.
Previous clients include: Hachette Kids, Simon & Schuster UK, Simon & Schuster New York, Scottish Women's Aid, Southbank Centre, Abortion Rights UK, The Everyday Sexism Project, Wilderness Agency, My Body Back Project and the University of Brighton. I have also been a core team member of both No More Page Three and AnyBody UK / Endangered Bodies with illustration and design being my main contribution. I have also worked on live drawing projects for Oxfam, Kings College London, UCL, NHS Wales, Body Kind Festival and PMIEF.
Have a wander around my portfolio and see for yourself what kinds of work I do. If you have any questions, want to commission me, or would like to order a print version of any of the work you see, drop me an email in the form at the bottom of the page, or click the little envelope above this bio. 
I hope you have a nice visit. And watch out for the tap-dancing vulvas...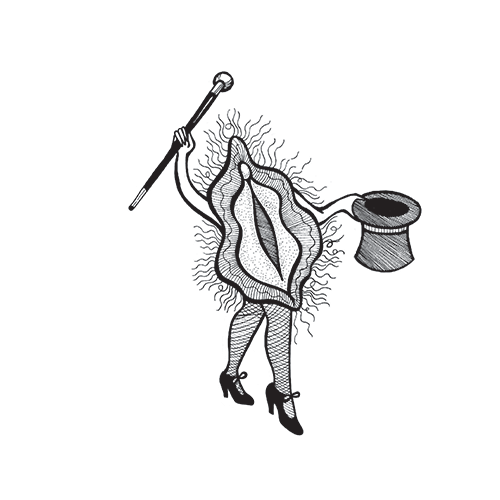 Any questions? Drop me an email.